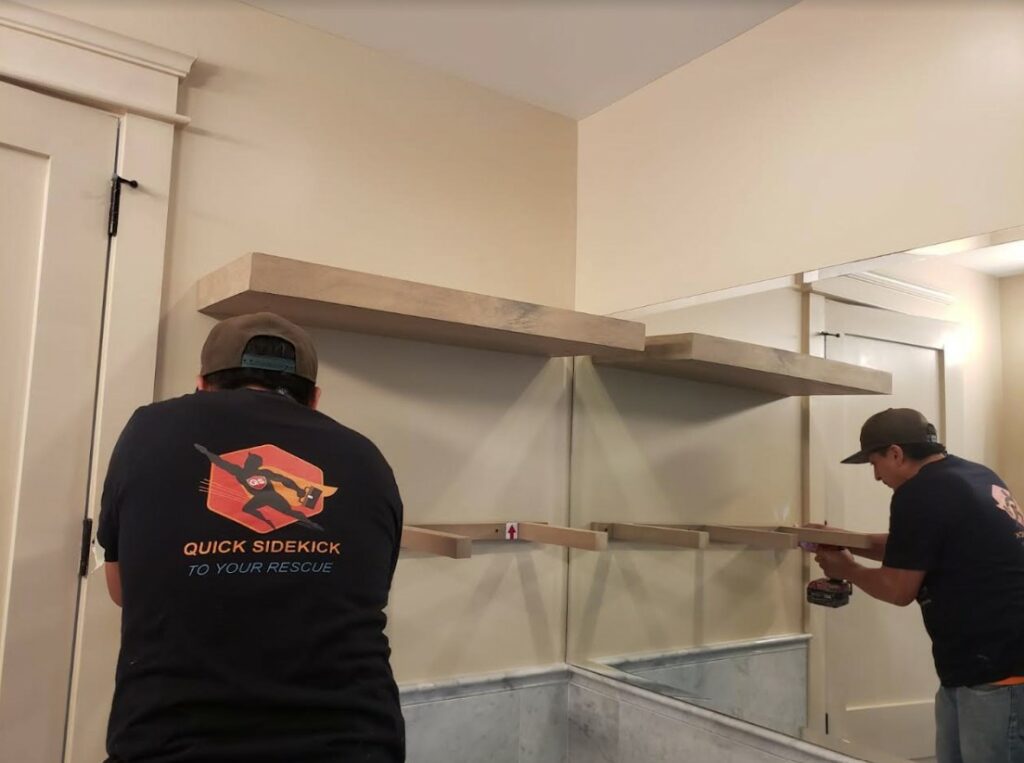 Quick Sidekick is a Local Handyman & Exterior Cleaning company located in Vancouver Canada and serving surrounding cities such as North Vancouver, West Vancouver, Richmond, New Westminster, Coquitlam, Surrey, White Rock, and handyman service in Chilliwack.
Quick Sidekick is you one stop for all your household maintenance needs. People in Greater Vancouver like the idea that they are able to call Quick Sidekick and get a bunch of things they need done around their home in one day and only having to deal with 1 company instead of having to call a different company for each task they need done.
Some of the Services Quick Sidekick offers in Greater Vancouver are:
Gutter Cleaning Services – People always pick Quick Sidekick for their eavestrough Cleaning. Offering roof and gutter cleaning, gutter cleaning & repair, and window & gutter cleaning. Providing Commercial gutter cleaning service as well. Another great benefit Quick Sidekick customers enjoy is that when you get your gutters cleaned by Quick Sidekick they take before and after pictures so you know all of the gutters were cleaned.
Power Washing Services – Quick Sidekick has the best power washing service in Greater Vancouver. They have high quality commercial power washers and when they provide power washing services, they make sure to take their time to go over areas several times to make sure all of the dirt gets out to give you the best results.
Window Cleaning Service – Professional Interior and exterior window cleaning services. When cleaning the exterior windows Quick Sidekick provides 2 different kind of window cleaning services to their clients. 1 is cleaning the exterior of the window with a long water fed brush. When cleaning with a water fed brush Quick Sidekick can clean windows up to 4 levels high without a ladder. The problem with a water fed brush cleaning if does not get rid of any dirt or other things that might be stuck on a window only cleans off light dust-off windows. If customers want a more thorough window cleaning, then they would request windows to be cleaned by squeegee.
Roof Cleaning Service – Quick Sidekick is one of the most affordable roof cleaning services in Greater Vancouver and still providing remarkable results. There are several different kinds of roof cleaning services such as.
Blowing lose debris off a roof,
Spraying the roof with roof cleaning chemicals,
Brush Cleaning a roof,
Power washing a roof,
Gutter Repair Services – Quick Sidekick provides a variety of small gutter repairs such as repairing leaks in gutters, installing new downpipes, re-aligning gutters, reattaching gutter.
Snow Removal Service – Quick Sidekick does only offer hand shoveling and salting services right now. What Quick Sidekick customers enjoy about their snow removal service that no other company offers in Vancouver is that you can cancel the service at any time. They will send out a email before they come and if you do not want them to come you can just reply to the email that you do not need the snow removal service. They also charge hourly other than a flat fee this way you only pay for how long the service takes. Another great benefit about Quick Sidekick snow removal service is that they take pictures, so you know they were actually there.
Christmas Light Hanging Services – You provide the lights and Quick Sidekick will come to your home and hang your lights based on your directions. Quick Sidekick will provide a sketched-out pictures before they come to install the Christmas lights outlining where they will be hanging the lights and you can alter what you want.
Handyman Services – Quick Sidekick specializes on small to medium size repairs working with homeowners and commercial properties. There is almost no repair that Quick Sidekick can not handle.
Painting Services – Interior & Exterior painting services with a full-time experienced painter.
Drywall Repair – Repairing holes and cracks in walls and in ceilings.
Underground yard drainage maintenance – Providing a verity of different services for yard drainage services such as camera inspection, hydro flushing, getting rid of roots in drainage, Replacing tile drainages with PVC drainage, installing catch basins, and installing French drains.
As you can see there is almost nothing that Quick Sidekick cannot do. Quick Sidekick is one of the best companies for homeowners and for commercial properties to work with because you will always need their services.
Visit Quick Sidekick at: https://vancouver.quicksidekick.com/