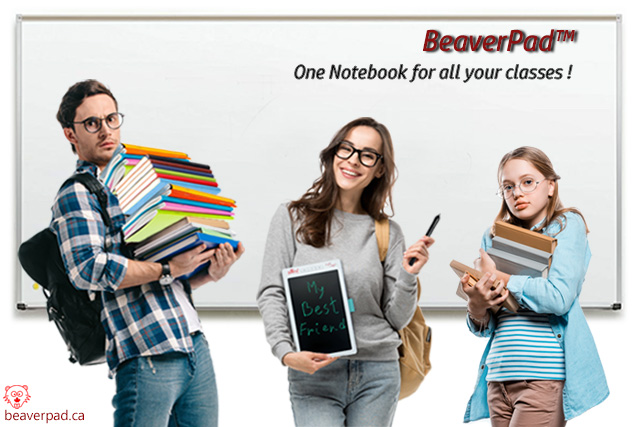 The worldwide paper consumption was measured at over 400 million metric tons in 2021, and this number is expected to surpass 450 million by 2030. We lose approximately 15 billion trees a year as a result of deforestation, and paper related industries are responsible for using 40% of globally traded industrial wood. In the wake of the climate change crisis, these are alarming numbers, and there has been a growing call from the scientific community to strengthen the efforts to reduce paper consumption and its impact on deforestation.
In response to this environmental urgency, a Canadian company called BeaverPad™ Canada has brought an electronic smart notepad that has the potential to eliminate paper consumption from many walks of our lives. The BeaverPad LCD Writing Tablet is a 10-inch smart writing device that uses a Liquid Crystal Display (LCD) writing technology to replicate the experience of writing on a real paper with a pen, for a truly paperless writing experience. Like any other LCD display devices, it uses very little energy, while still offering many smart features such as an internal memory, saving your notes, Bluetooth and USB connection, and synchronizing your work with other devices.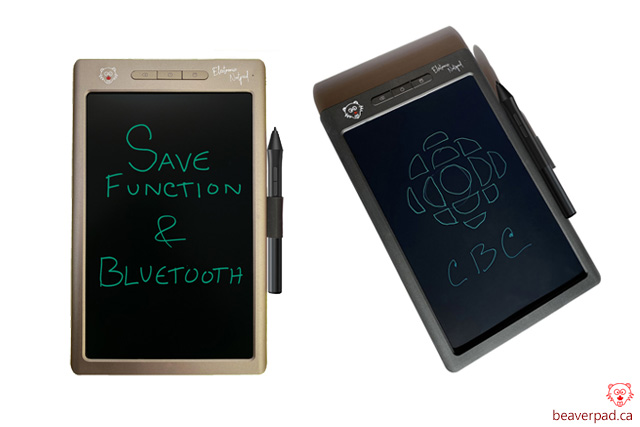 Special Features
Energy Efficient:
It runs on a rechargeable CR2016 battery that can be used for a continuous 50 hours per charge.
Built-in Memory:
Unlike other generic LCD writing tablets, The BeaverPad™ comes with its own built-in memory for saving your notes or drawings.
The BeaverPad™ is a smart LCD writing device that has a save function that allows you to save your notes offline within the device's memory without being connected to any other devices.
Bluetooth and USB connection:
The BeaverPad™ is packed with Bluetooth and USB connections that allow the device to connect to smartphones/ tablet computers (Android and iOS), and desktop/laptop computers (macOS and Windows) respectively.
Live Synchronization:
The Bluetooth and USB connections allow users to synchronize their work directly from The BeaverPad™ to their smartphones, tablet computers or desktop/laptop computers in real time.
File Transfer:
Using the Bluetooth connection, users can easily transfer their work saved in The BeaverPad™ to any Android/iOS devices. Paired with the save feature – this is a very useful function as you can save hundreds of pages of notes within the BeaverPad™'s memory and transfer them to other devices at your own convenience.
Perfect Palm Rejection:
Unlike other generic LCD writing devices, The BeaverPad™'s writing mechanism offers perfect palm rejection while writing. That means, when you write on the BeaverPad™'s screen, there won't be any residue or unwanted marks caused by palm pressure. The BeaverPad™ will only register marks as a result of the pressure applied by its equipped stylus pen.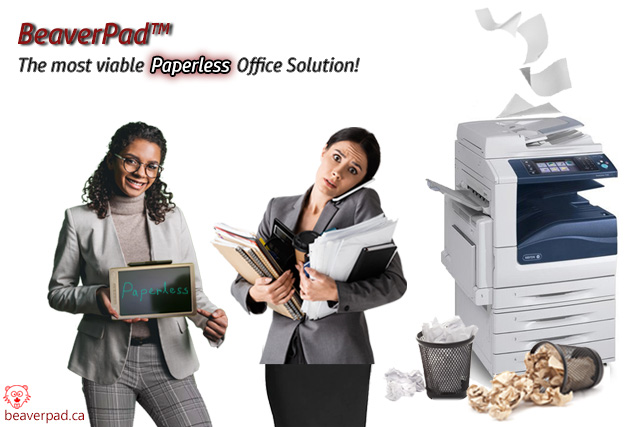 Paper-Like Writing Experience:
The smooth surface of the BeaverPad™'s screen gives a very paper-like writing experience. So, if you are skeptical about giving up your old pen and paper because you don't want to compromise on your writing experience, you can rest assure that you will never miss paper while using the BeaverPad™.
Zero Eye Strain:
Unlike other backlit screens used on computer monitors, tablet computers, or smartphones, The BeaverPad™'s screen does not require any front or back lights – this allows you to use The BeaverPad™™ for long hours without any digital eye strains.
Highly Affordable:
Compared to other paper alternative writing solutions, such as, e-ink devices, touch screen computers, or any Android or iOS devices, The BeaverPad™ is significantly more affordable.
Countless Supply of Pages:
The Save/Erase function gives users up to 100,000 new blank pages over the lifespan of the BeaverPad™. This will allow you to minimize paper consumption significantly at work, home, or school and save lots of trees.
In the midst of the current global environmental crises, there is a clear and growing call for action to shift away from environmentally hazardous products and move more towards sustainability. This has evidently and increasingly been supported both by the scientific community and consumers over the past few decades. The BeaverPad™ has the right potential to address this highly visible and menacing problem related to our heavy paper consumption and contribute significantly in the fight against deforestation and climate change.