Michael Package is a professional manufacturer of candy pads used in chocolate boxes.
We manufacture and customize candy pads according to the different needs of each customer.
We think the only custom makes your brand unique.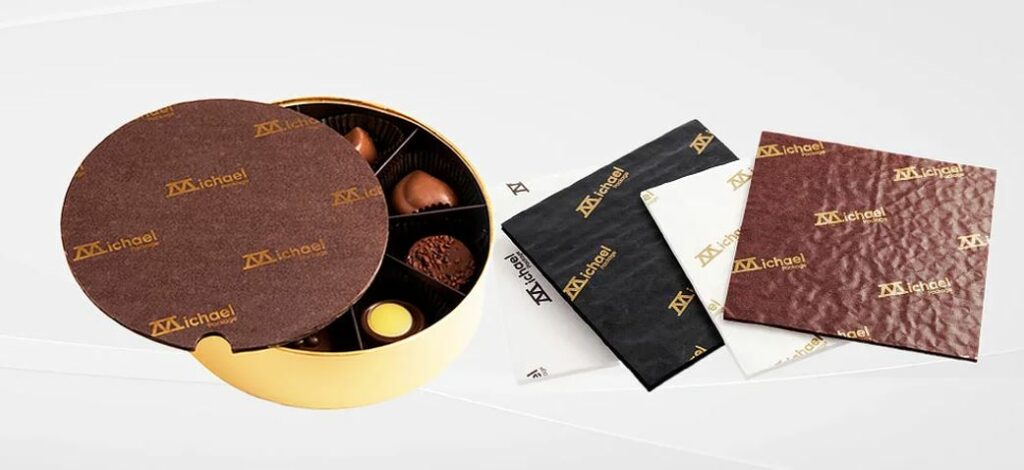 ​Custom specifications below:
2ply, 3ply, 5ply, 7ply, 9ply candy pads
available in white, brown, black, or printing
logo printing, up to 8 colors
die-cutting to rectangle, round, heart shape……
custom thickness—-from 1mm to 10mm
We hope to help you improve your brand, even just a small candy pad.
Function of Candy pads
Candy pads are used to protect chocolates, candies, cookies. It fits nicely in chocolate boxes and candy tins.
Candy pads will give cushion to chocolates as a spring. It will spring the candy against the lid and keep the chocolates safe while moving and shipping.
Candy pads are made of multi-layered paper, the inner structure like spring, these little "springs" act as cushioning for candies. It will keep chocolates from breaking up.
Food packaging safety
Brand owners design their food packaging with a beautiful style to attract consumers' attention. At the same time, the safety of food packaging is more important.
Raw material of Candy pads
Our Candy pads are made of glassine paper.

Glassine paper is resistant to grease, does not absorb water, and has high resistance to the passage of air. So glassine paper is the best raw material for manufacturing candy pads.
And glassine paper we use is food grade. Candy pads can touch chocolates and other candies directly.
All the Candy pads we produce are 100% recyclable and eco-friendly. And our dust-free plant is suitable for the production of candy pads.
Newsrooms.ca was not involved in the creation of this content. Information contained on this page is provided by an independent third-party content provider. Newsrooms.ca makes no warranties or representations in connection therewith.