As of 2022 Polish joinery is still valued and popularly chosen by investors not only in Europe but worldwide. What is the secret behind the success of Polish window and door joinery? Let's take a look and try to understand this phenomenon based on the case of DAKO – one of the biggest Polish joinery manufacturers with a comprehensive product portfolio, including windows and doors, external roller shutters, and garage doors.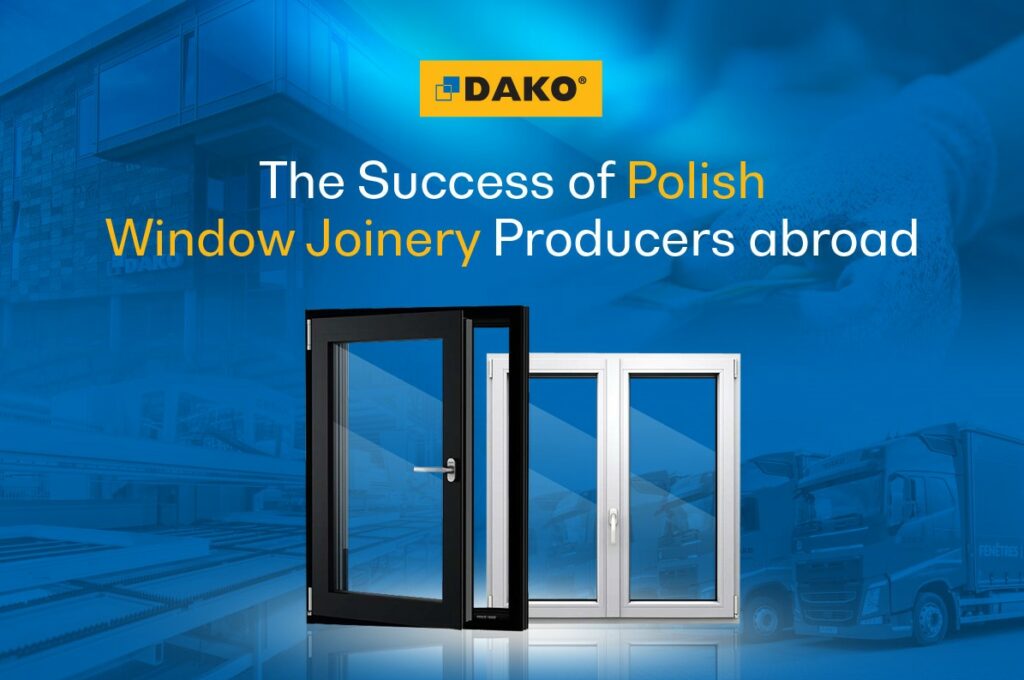 Continued market growth.
The construction industry is doing well as it grows every year, which further impacts the soaring demand for joinery. Polish manufacturers succeeded in developing a strong position in the global joinery market. Why? The short answer is they offer competitive prices for the highest quality products available on the market. This is due to the high level of production optimisation and stringent quality control that allows for shortening of production time while maintaining high quality throughout the process. In order to compete with other manufacturers, DAKO products must be compliant with many international standards, have to pass structural and thermal tests, and meet rigorous technical requirements set by many EU and international fenestration institutions.  
The quality of materials and production – understanding market standards and requirements.
The production of joinery is located in Poland, where the raw materials originating from local producers are used. Some components for window production are imported from other European countries. For example, DAKO selects and uses components from the best manufacturers in Germany, France, Belgium, and Poland to supply aluminum, vinyl, timber profiles, glass, and hardware. All are characterized by optimal physical and mechanical properties. Moreover, the company has invested in a large-scale modern technology park. Modern machinery and high technological facilities influence the quality of the end product. The finishing quality of profiles is guaranteed by the dual-chamber powder paint chamber designed for painting window profiles, profile edge banding machine working on the base of the hot melt adhesive technology, and professional testing laboratory. Results? DAKO is capable of implementing even the most elaborate ideas of its clients, designed to fit their needs. At the same time, the company focuses on providing a product customized to the requirements of a given market without having to compromise on overall quality.
The investment in modern solutions.
Experienced manufacturers who have been in business for years realize the importance of investment. And we are not referring only to machinery and technology, but also to the human resources of the company. Yes, using the latest technological solutions certainly gives irreplaceable precision in production, but nothing can replace the human sense of aesthetics or creativity. DAKO recognizes the potential present in its personnel. It places its trust in them and offers them a chance to develop and improve their qualifications under the watchful eye of professionals.
Partner networks and professional assistance.
The company prides itself on its achievements in foreign markets. This should not come as a surprise as the network is constantly growing. The company is establishing cooperation with new distributors and smaller businesses to reach more and more customers. This is a response to the ever-growing demand for reliable, best-quality products. Business partners can count on marketing and technical support, training, and perfectly organized logistics. Short delivery times, taking over responsibility for the formalities related to export and ensuring the safety of products in transit play a huge role in building the export leader position in the market. If we talk about the highest quality, it applies to the entire process: from a selection of materials to delivery to the customer.
A long-term improvement process.
Polish windows and doors manufacturers maintain a high level of export. As the growth trends in the construction industry prevail so is the recognition of polish joinery on the global market. Polish manufacturers proved to be able to supply any type of window, regardless of the material, market, and destination. Becoming a reliable European windows and door joinery provider with expert knowledge and vast experience on the market is a challenge not everyone is ready to take on. Although it is a demanding process, it is also a key to building long-term relationships with customers and partners in a global joinery market. DAKO, operating on the market for nearly 30 years is a prime example of that statement.