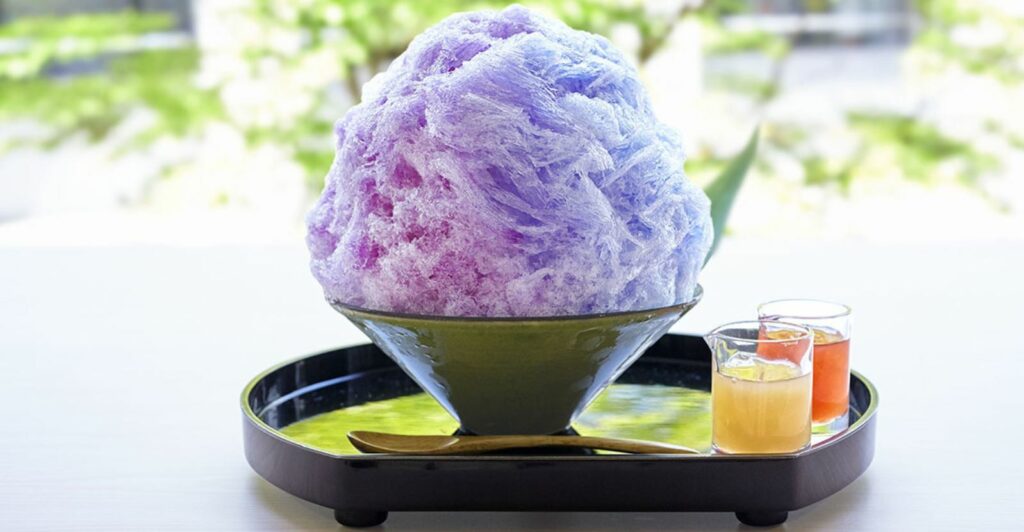 3 different methods for making snow cones
Making Hawaiian Shaved Ice in the comfort of your home is a good way to stay cool during the warm summer months. There are many ways to approach the task, some easy and some a little harder but yield great results. In Japan, did you know that shave ice is called Kakigori.
Kakigori is a Japanese shaved ice dessert that is traditionally topped with syrup, milk, and fruit. It dates back to the 11th century as a dessert reserved only for Japanese aristocracy however in modern times the dessert has become so popular that you can make it from the comfort of your home with a Kakigori Electric Machine.
The Blender/ Food Processor Method
The first method works by gathering ice cubes and placing them a blender or a food processor until they have a slushie like consistency. Of course, each blending machine is different, getting it to the perfect consistency for shave ice may take a few tries. Once your shave ice reaches a snow-like consistency you can top it off with your favorite toppings.
The Bag and Hammer Method
This method may seem a little primitive however it gets the job done when you're wanting to make shave ice at home. For this method, you will need a zip lock bag that can hold water without any leaks. You will want to fill the bag about halfway with water and freeze it in your freezer by laying it down flat. Once the water is frozen you can take a hammer and begin to crush up the ice. Once crushed you can pour it into a bowl or cup and add your syrup of choice or condensed milk.
The Ice Shaver Method
For this method you will need a tool called an Ice Shaver, you can find them in Japanese online store like Akazuki or even on Amazon. Ice Shavers come in both a mechanical and a utensil like version. However, this method is for the utensil version which can be held by hand. To start you need a block of ice that can easily be made by freezing water in a large container. After frozen, you can drag your ice shaver across the block of ice to create the slush you need for shave ice, once you have your ice you can add your desired syrups and toppings.
What are The Best shave ice Electric Machines?
Machines work similarly to most shave ice machines. This means that the machine you choose doesn't necessarily need to be for Kakigori, as long as it shaves ice, it can make a treat very close to the Kakigori you can get from Japanese street vendors or coffee shops. But, if you really want to make shaved ice like snow at home, you should check this online store specialized in shaved ice machines from Japan.
DOSHISHA Electric Authentic Fluffy Shaved Ice Machine
The Doshisha is an authentic shaved ice machine imported from Japan. The machine allows you to make fluffy Kakigori with a powdered snow-like texture similar to the authentic Japanese Kakigori served in Japan. The machine works through a simple button and will allow you to craft up your favorite sort of Kakigori in minutes.
Little Snowie 2 Ice Shaver – Premium Shaved Ice Machine and Snow Cone Machine
The Little Snowie 2 is advertised as a snow cone machine, but can also make something very similar to the Japanese Kakigori dessert using the same idea. The Little Snowie 2 uses ice cubes and ice chips straight from your freezer and will turn those into a fluffy snow-like dessert. The Little Snowie 2 additionally comes with 6 sample syrups to experiment with the Kakigori flavors you enjoy best.
ZENY Ice Shaver Machine Electric Snow Cone Maker
The Zeny snow cone maker, like the Little Snowie 2 is advertised as a machine for making fluffy snow cones. The Zeny is a commercial-grade product that can also be used in your home for creating delicious Kakigori treats.
You want to use your hands like in the old Japanese time? Then the next part is for you:
What are the Best shaved ice Manual Machines ?
Kakigori is a Japanese sweet dessert made from shaved ice. It is traditionally sold at street vendors or cafes during the summertime. However recently with the surge in popularity of the treat, many have been wanting to make Kakigori at home. Luckily, there are Kakigori machines suitable for use in your home.
Electric vs Manual Kakigori Machines
The difference between an electric and a manual Kakigori machine is pretty straight-forward and self-explanatory. An electric machine uses electricity to power the blades that are used to create the shaved ice for Kakigori. Manual machines, however, are more of a traditional variety and use a hand crank to power the metal blades used to create shaved ice. While one requires a little more manual labor, there are no significant differences between the two, and the choice between which to get comes down to your own personal preference and convenience.
Kakigori Machine Doushi
The Doushi Kakigori machine is one of the best choices when shopping for a manual shaved ice machine. Its vintage look makes it the ultimate gift for those interested in making your favorite treat in the old traditional way.
Newsrooms.ca was not involved in the creation of this content. Information contained on this page is provided by an independent third-party content provider. Newsrooms.ca makes no warranties or representations in connection therewith.